OMCGear Discount Codes
Note:*Discounts May Not Work on All Products due to Exclusions *See Here

All Members get 10% Off!
All Members get 10% Off!
Ship
DIVIDENDAA
DIVIDENDAA
Ongoing!
15% off Orders
15% Off Order with OMCgear Email Sign-Up
15%
MEMBER15
MEMBER15
Ongoing!
How to Apply Your 10% off OMCGear Discount Code:
1. Click above banner to reveal the code:
2.  If you do not yet have an account (it's free!) please sign up as shown below:
3. Select items to purchase and place them in your cart
5. Prior to selecting "Proceed to Checkout", place the code from step 1 above into the "Discount Codes" box and click "Apply":
6.  That's it, you should now see your Prices discounted 10%! now click "Proceed to Checkout"
e-OMC Review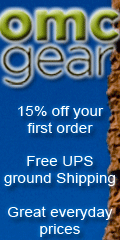 Nestled between Mt Hood and the coast of Portland, Oregon Mountain Community is the primary store available for those interested in being to enjoy all of the outdoor wonders that the city has to offer. In addition to operating a well-known retail store in the heart of Portland, Oregon Mountain Community also maintains an established online store that carries some of the best outdoor gear brands out there. Like many other top outdoor gear stores that are available, Oregon Mountain Community is able to carry a lot of top brands that are hard to find. They carry The North Face, Patagonia, Marmot, among many others. They are able to offer amazing deals to their clients that cannot be found elsewhere. For example, Oregon Mountain Community is currently hosting their Specials for February which is basically listed on the first page of the website. Online consumers are able to filter through all of the different deals that they are interested in, and view all of the deals that are available as well.
Oregon Mountain Community does not have complex website templates and graphics like some of the other sites. They sport a simple design. Consumers are able to filter through the site through different categories. The first one is to filter through it by the type of product being sought. The second is to filter through it by brand, and the last is to filter through it by specials that are available in February. The specials that are available in February are broken down by the type of products available as well. All of the products sold have a photograph posted, and consumers are able to click on it in order to gain some information regarding product description and specifications with perhaps some reviews depending on what pervious consumers have posted. Everything looks extremely simple.
Some of the most popular deals on the site as of current will be the 3-seasons tent, the 4-seasons tent and the men and women apparel that are available. The Patagonia apparels, for example, are highly featured on their site, and also on-sale at the moment. These different jackets, pants, and shirts are known to be able to provide excellent insulation for endurance activities in cool to cold weather. They are able to provide an extremely comfortable experience as the materials are stretchy, and will literally move with the body. The jackets are also extremely durable, and known to be able to last for practically decades if maintained properly, and they are able to combat even the worst environmental conditions that are available!
Oregon Mountain Community has a lot of different items in their inventory, and they are always upgrading their stock or adding new items. They have backpacks, books, electronic accessories, tents, sleeping pad, sun glasses, lighting equipment, hydration equipment and more. A lot of their products also strongly emphasize on the needs that are prevalent in snow sports as Portland is a wonderful place to go skiing. One of the most interesting categories available will be the dog products and the food and nutrition. Oregon Mountain Community acknowledges that pets are an important part of an adventure, and they have all of the different products that are needed by our little friends to flourish. In addition, they are also able to provide a lot of food and nutrition products for those who may be going on long adventures in the wild as well. They are stocked with a huge variety of different selections.
One of the main benefits of purchasing outdoor gear online in comparison to shopping at the retail store will be the additional savings that are available. Those who shop at the Oregon Mountain Community online store will be able to sign up a free e-OMC membership. To sign up, all that is needed is one's email, and some personal information. Upon signing up, members are able to enjoy 10% off on all full-priced items that are being sold at the online store.
Consumers who have purchased over $50 worth of merchandise will be eligible for free shipping. All merchandised are shipped with tracking as well. This is particularly important as it is a good indication that the company will be able to properly care for all packages.
Being able to excel in customer service is one of the main concerns of Oregon Mountain Community, and they are constantly bending over backwards in order to be able to impress their consumers. For over 30 years they have been able to provide excellent service and products to their consumers, and they are not about to stop. A return form is included in all packages that are shipped out, and consumers who have any problems with their products will be able to obtain a full refund on all items that are still in their original packaging and with all of their tags on them within 30 days of purchase. Exchanges are also not a problem. It is important to note that the return freight costs are the consumer's responsibility; however, Oregon Mountain Community will cover all of the shipping costs even for the exchanges.
Oregon Mountain Community is an established outdoor gear store located in Oregon, and they are backed up by a team of amazing outdoor enthusiasts capable of providing excellent advice and consultation. Those who are interested in purchasing from the site will be able to easily find the items that they are after at great prices, and others will be able to visit the store before heading out on an adventure. Oregon Mountain Community is perfectly stocked with all of the outdoor gears needed, and they are able to provide products that are catered to the expectations and needs of each individual.
eOMC Coupons – 4.3 out of 5 based on 226 votes.