Enter for 20% off with Rock Creek Coupons!
Based in Chattanooga, Tennessee, Rock Creek is an independent, specialized outdoor gear and equipment store that has over 20 years of experience. They offer the top picks from high quality brands like The North Face, Marmot, ArcTeryx, Chaco Sandals and more in order to provide their online consumers with the proper gear needed to be able to have a comfortable and safe experience when exploring the outdoors.
Rock Creek Coupons, Promotions and Deals

30% Off Marmot through Cyber Monday at RockCreek.com!!

Rock Creek Video
Rock Creek Review
They were named as one of the "Top 25 Outdoor Retailers" for 2008 and 2009. They carry a wide range of gear, equipment and apparel for sports like kayaking, climbing, camping, hiking, trail running and adventure racing, and they also encourage outdoor sports as they host the annual StumpJump 50k Trail Race. They are also one of the major sponsors of the Triple Crown Bouldering Series. In addition, they are also a part of the Grassroots Outdoor Alliance which is a group of stores that have dedicated their mission to being able to provide sustainable outdoor equipment and gear that is performance-oriented and also high in quality. They are also dedicated to sustaining the environment.
Rock Creek offers online consumers with top quality brands at low prices. They have numerous different types of savings and deals available. In fact, online consumers are able to save 20% on regularly-priced items using a coupon code, and they are also able to enjoy free shipping on orders that are over $49. Restrictions do apply, and free shipping excludes heavy or oversized items. They also have different types of deals available at various times. For example, they are offering a free Rock Creek hat with a Merrell Barefoot purchase. Those who join their e-mail list will also get updates and newsletters in regards to new products and bargains. Those who join the e-mail list are also placed in a draw for a $500 kayak and paddle giveaway. Winners must have a US mailing address. There are also numerous sales that will donate a portion of the profits to great causes and organizations that are related to outdoor sports such as Wild Trails.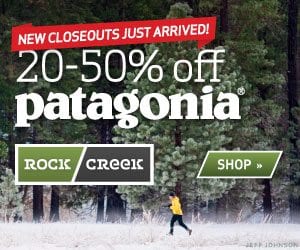 Rock Creek carries a variety of different products for men, women and kids. In addition to having a store, they also have an outlet option on their website which will direct online consumers to all the savings and all of the items that are on discount. There are many different items from top brands like The North Face, Patagonia, Outdoor Research and ExOfficio available at the outlet section of the site.
The site is easy to use, and all products are organized based on whether they are for men, women or kids, and also in the sport category that they fit in. Each item is then organized into a sub-category that fits into the main category for easy browsing, and shopping. Finding the right type of gear is extremely easy with the layout of the site. In addition to carrying the top brands, Rock Creek is constantly restocking with new arrivals.
In addition to being able to easily find the appropriate type of gear, Rock Creek has an amazing function that allows for online consumers to compare the different products that they carry. By clicking on the compare button that is available, online consumers are able to select the products that they are interested in comparing. When consumers are finished selecting products they want to compare, they will be led to a page where the details and information regarding the selected products are laid out. Consumers are then able to compare and contrast the products that are carried in order to weigh out the benefits of each product, and the unique features that are special to each product. This helps improve the shopping experience as consumers are able to easily see what each product has to offer, and compare the good of each product to the price that they are paying.
The Chaco Sandals are one of the best sellers on the site. These sandals are designed for comfort, and they are able to provide the necessary support needed for outdoor sport enthusiasts. These contoured sandals have been known to be able to provide high performance at all times.
In terms of climbing gear, RockCreek has it all. They have Approach shoes, climbing shoes, climbing rope, harnesses, chalk bags, big wall and aid equipment, climbing packs and accessories, climbing books, rope bags, knives and tools and more. It really is a one-stop shop for those who are interested in climbing because they will find all of their equipment, gear and apparel on this site. There are numerous brands for each gear, and online consumers are able to select ones that interest them to get more information. There are also great deals available.
Professional advice and consultation is also provided by their live-chat support system. The gear experts from the company will be able to provide additional information regarding the products that they carry, and also point consumers in the right direction in regards to products that they are interested in. The chat support system is available 24/7. The experts at RockCreek also have a blog set up that introduces new products, and provides information in regards to outdoor sports. It's an extremely informative blog to follow, and definitely one of the best blogs out there.
Rock Creek places a huge emphasis on the entire shipping process. Not only do they carefully package and ship all purchases, but they also have order tracking for the products which will allow online consumers to track the location of their parcel. In addition to having secure shipping, RockCreek also offers a 100% satisfaction guarantee, and they have an easy return policy and system in place for consumers which will improve their shopping experience.
In terms of gear selection and quantity, Rock Creek is definitely one of the leading online providers that carry basically everything that online consumers would ever need. Those who are interested in outdoor sports will find everything that they need here, and the compare function will allow them to better understand the specialized features that are unique to each product. Rock Creek has built a good reputation over the 20 years that they are in business, and they are definitely one of the best places to go for outdoor gear and equipment.