Get US Outdoor Store Coupons here and Save! US Outdoor is a men's and women's sportswear and equipment supplier company. This company fulfilling the needs of water, snow and land sports equipment and sportswear in Pacific Northwestern for about 50 years. Their main products are men's and women's sports equipment, sportswear, surf and Outdoor clothing, skate cloths and skiwear. US Outdoor Company gives a special offer for the United State residents. They will take no tax fee and shipping charge for the product delivered in US. This offer is running for almost 8 years.
UsOutdoor.com the official and online store site of US Outdoor was launched in 1996.The fourth version of online store of US Outdoor was launched in December 2002. They are also launched their sixth version of online store already in 2006. US Outdoor company will celebrate their 50 years of success and 10 successful years of usOutdoor.com as online store very soon.
More US Outdoor Store Promotions:

US Outdoor Store Review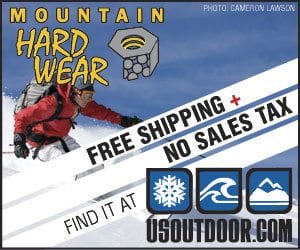 Snowboard clothing and equipment: US Outdoor store have large collection of snowboard clothing and equipment. The snowboard, snowboard boot, snowboard bindings both for the men and women are available here. The snowboard jacket, shirt, pant, hand gloves and other snowboard wear and equipment is available for women, men and for kids. Burton, Airbluster, K2 and Libtech are the popular brand for those products in US Outdoor store.
Hiking or climbing clothing and equipment: For hiking and climbing, US Outdoor have some great collections from the popular brand. The main collection of US Outdoor store for hiking and climbing purpose are Marmot sleeping bags, Easton kilo tent, Men's' and Women's hiking boot and osprey backpacks. You will get other brand products available there as well.
Surf clothing and equipment: In summer you may willing to get wet. Us Outdoor is ready to fulfill your need for surfing equipment and cloths. From US Outdoor store, you will get wet suits, reef sandals, Roxy swimwear, Volcom & Billabong Boardshorts and much surf equipment.
US Outdoor store has many products for Outdoor clothing. You need suitable clothes for your Outdoor activities like travelling or cycling or anything like that. Us Outdoor store are supplying men's and women's travel wear. You will get Luggage, travel backpacks, rolling gear bags here that will fulfill your travel bag need. You will also get various travel cloths and accessories for men and women available in the store.
Product Brand info of US Outdoor store:
Us Outdoor company supplies the products of popular and well-known brands of local and international. The quality of products of supplied by US Outdoor store is differ by their price and brand. However, in average US Outdoor company supplies best quality product from the brand they offer. Currently US Outdoor company sells the product of 686, Arbor, Airbluster, Armada, ArcTeryx, Billabong, Ashbury Eyewear, Bond Outerwear, Black Diamond, Burton snowboards, Bonfire, Capita Snowboards, Camelbak, Dakine, Chrome Industries, Dot Dash, DC Shoe Co, Electric, Eagle Creek, Julbo, Ex officio, Nixon Watches, Roxy, Spy + ,Smith and some other brand like these.
Online Services:
US Outdoor Company starts accepting online order before 10 years ago. The complete order for an online product from USA takes only 1-2 business days to reach destinations. This company gives free shipping and tax-free service for USA resident for previous eight years. If you are a USA resident then you can ship any product from US Outdoor online store of any brand.
For outside USA resident, US Outdoor company ships product via UPS. You will have to give standard UPS charge for shipping and tax applicable for the product. Currently they are giving their services in almost all country o9f the world. However, if you are outside USA resident then you cannot buy some of the brand products from US Outdoor store site. Those brand names are Anon, ArcTeryx, Burton, Black Diamond , K2, Gnu, Liquid Force, Lib Tech, Oakley, MSR, Petzl Charlet, Patagonia, Bindings, Ride, Therm-a-rest, Seal Line, Exped, The North Face,.
Shipping fees info:
The company will ship with free of cost for USA resident only (If they purchased $40+ products). However, if you want to ship your products in outside the USA then you have to pay shipping fees. Shipping fees are varied with the locations and your product price that you brought. Shipping fees are very dependent on the UPS fees.
Tracking Product facility:
US Outdoor company gives you an opportunity to know about your product shipping details through their website. When you buy a product from US Outdoor store online, you will get a code that is named as shipment reference. You can track your product at any time by that code. This facility will give you a tension free experience while shipping products.
Easy return and replacement facility:
US Outdoor company provides easy and hassle free return service. If you do not like the product you buy then you can return that product within 30 days of your buying date. To return a product it must be unused and include the original manufacturer packaging. Tag removed product cannot be returned. Therefore, before vanishing the packages or tags, ensure that product is fit for you.
Payment Option:
The company used very popular method of payment processors that include PayPal, MasterCard, Visa card, American Express and Discover.
The US Outdoor Company supplies its product in USA for 50 years and this Company achieves trust with their product and services. From starting its online services, it is providing great services to its customers. With their services, you will never face shipping problems or any other problems like this (except some accidental incidents). They are always ready to give their total effort to serve you. The US Outdoor company has full refund policy if you did not satisfy with their products within 30 days of buying. Your personal information and data is secured with this Company and you can fully rely on that.